26 March 2022
Andrew Mitchell MP's 102nd message to constituents and local residents across our Royal Town
Royal Sutton Coldfield Updates
As you can imagine, I receive a lot of correspondence on a daily basis and this week has been no exception with many constituents contacting me about the rise in the cost of living so I am sharing the response I have sent following the Spring Budget for your information.
"I understand anxiety over rising prices and inflation. I want to assure you that the Government will continue to listen and to ensure that the policies in place do help those who need it most.
I strongly welcome the range of measures put in place, including the new three-part plan to help households with their energy bills during this challenging period.
Several external factors have driven inflationary pressures.  In particular, shortages created by the reanimation of the global economy and global energy price spikes brought on by the inability of supply to keep up with demand and the Russian invasion of Ukraine. This has been particularly acute when it comes to the price of wholesale gas.
A rise in the National Living Wage will mean an extra £1,000 in the pockets of millions of people. The Government has also cut the Universal Credit taper rate and increased work allowances - which represent an effective tax cut for low income working households in receipt of UC worth £2.2 billion in 2022-23.
I also welcome that the National Insurance personal threshold will rise further from £9,500 to £12,570 from July 2022. This will bring it in line with the equivalent Income Tax personal allowance and represents the largest increase in a personal tax threshold in British history, equivalent to a £6 billion tax cut for nearly 30 million workers and worth over £330 a year starting in July, across the entire UK. This represents the largest single personal tax cut in a decade.
I will be working with my Parliamentary colleagues to ensure the Government continues to help ordinary households up and down the country as our economy continues to recover from the shock of Coronavirus."
Community Games: Yesterday I had a meeting with Dennis Kennedy to discuss the upcoming Community Games which are now such a feature of the Royal Town's social calendar. The games this year will take place at the rather later than usual date over the weekend of August 13th/14th. Dennis has terrific plans for this year and it will be a great social and sporting occasion as usual.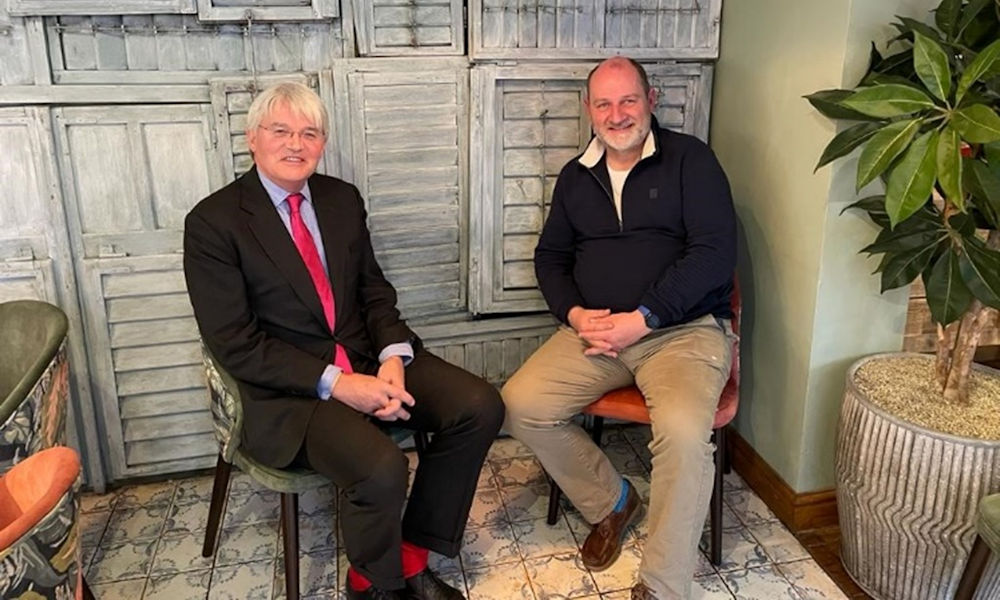 Royal Town Hall: Last night, as Trustee of the Town Hall, I had the pleasure of kick-starting the fundraising for our Royal Town Hall's refurbishment programme by doing a talk on my life as an MP.  We are so fortunate to have such an amazing venue and Manager Director running it in Julie Rennison and I look forward to attending more fundraising events going forward to enable us to do the much-needed work to make sure we keep this Town Hall truly Royal!
Managing Director, Julie Rennison said:
"On behalf of the staff and trustees of Royal Sutton Coldfield Community Town Hall Trust, I would like to thank our Trust President Andrew Mitchell for generously giving his time last night. His entertaining speech and Q&A gave our audience a real 'backstage tour' of UK politics and we all learned so much about the process of government. His appearance kickstarted our 2022 refurbishment fundraising, with over £500 raised towards this major improvement project, which will benefit residents of and visitors to Sutton Coldfield."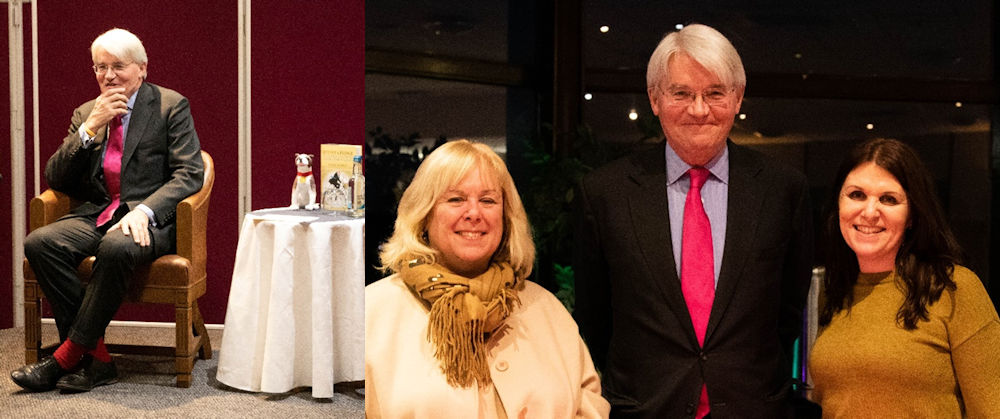 Friends of Boldmere Spinney: It was a pleasure to meet Anja Pawson at the talk who is Vice Chair of Friends of Boldmere Spinney.  The Spinney is a wonderful pocket of woodland at the heart of Boldmere and I look forward to joining them shortly for one of their coffee mornings in the near future and visiting the Spinney.  You can find Friends of Boldmere Spinney on Facebook under 'Friends of Boldmere Spinney' and they are a member of Birmingham Open Spaces Forum:
https://bosf.org.uk/members/boldmere-spinney-friends-of/?fbclid=IwAR2jyh490S5l-rnpo5ndHQnSI14PYtO0FKQ3n2KlsFWRYMl_KY4Cw-Vwj4w  
Westminster news and Parliamentary business
This week, the Commons debated the Lord's amendments to the Nationality and Borders Bill.  I spoke on three of the amendments designed to improve the immigration system.  These amendments to the Bill that would reduce the time before an asylum seeker can work to six months, improve the safe and legal route options for people fleeing terror and persecution, and recruit more civil servants instead of expensive 'offshoring'.
I wanted to make clear that I think this is a most important piece of legislation and I completely agree with the aims of the Home Office. I congratulated the Home Secretary on her vigorous attempts to remedy a serious problem.
But the three points I wanted to raise were that the Government should think carefully about whether they can move on the issue of 12 months coming down to six months.
On amendment 11, which is designed to break the people-smugglers' business model. The Government is quite right: people fleeing terror and persecution should only come here by safe and legal routes. We will only stop people in desperation coming over the channel—that is, set up the settlement pathway the Home Office rightly refers to and break the smugglers' model—if, first, we have accessible and meaningful numbers, and, secondly, we are not restricted to one geographic area. The Home Office confirms that 87% of the 28,000 arriving illicitly in 2021 came from Iran, Iraq, Syria and Yemen, for whom there is currently no alternative legal and safe route to which they can apply to get to the United Kingdom. Endorsing resettlement is central to the Government's new approach set out in the "New Plan for Immigration", but Ministers have yet to bring forward any provision in legislation that would see the necessary safe and legal routes made available.
It is rarely popular among Conservatives to talk of specific targets. Any figure can be changed up or down by the Government to reflect international circumstances. I fear that we must do so if the Government's laudable aim of stemming the dangerous flow of desperate people across the channel, exploited by evil traffickers, is to stop. The figure of 10,000 suggested by Lord Kirkhope equates to 15 per parliamentary constituency, or five families per local authority. The amendment makes it clear that this is inclusive of, not in addition to, the Afghan refugees, and having a target would 
enable local authorities to plan in a co-ordinated manner, as we have heard, and avoid the current system where so many Afghans whom we want to help are waiting to move out of inappropriate accommodation.
On amendment 9 and offshoring, this is the issue that Lord Kirkhope looked at so comprehensively before and reluctantly rejected. The Home Office is asking Parliament to grant it this power when it has no idea of where it would exercise it, when it could exercise it or if it can exercise it. We know that it would be incredibly expensive. Judged by the cost of Australian offshoring, the British taxpayer would face unprecedented costs per asylum seeker. It would be much cheaper to put each one in the Ritz and send all the under-18s to Eton. That would cost a great deal less than what is proposed. Much more sensible is to recruit and train several hundred new civil servants to process these claims more rapidly and, yes, to crack down on an over-lengthy appeals process exploited through unscrupulous lawyers.  
You can view the debate here: https://youtu.be/vJA3rxiKutY and read here: Hansard  You can also hear my views on the Today Programme at the following link:
https://twitter.com/BBCr4today/status/1506212238012657668?s=20&t=qjSdP9u3Fq1bZzR3tFpgRg
Post Office Horizon Software Scandal:  I also spoke in the Commons this week to welcome the announcement this week in the House of Commons that the group of Post Office Horizon software scandal victims who defeated the Post Office in the High Court case will get compensation and called on the Government to ensure the independent inquiry also looks at the Government's role so that lessons can be learned to ensure that nothing like this ever happens again.  You can view here: https://youtu.be/_wpPkZiA5io   or read here Hansard  As a miscarriage of justice this is right up there with the worst of them.
Putin is already failing in Ukraine but continues to subject the Ukrainian people to increasingly brutal tactics as they defend their homeland against his unprovoked assault.

That is why, at the NATO and G7 Leaders' meeting yesterday, the Prime Minister announced we are providing an additional 6,000 anti-tank missiles and £25 million for the Ukrainian military – more than doubling the defensive lethal aid we are providing to more than 10,000 missiles, on top of our £400 million in humanitarian and economic aid to Ukraine.

We will continue to urge our allies to join us in strengthening Ukraine's defence capabilities – to keep the flame of freedom alive in Ukraine as we stand shoulder to shoulder against tyranny.
Events, Opportunities and Information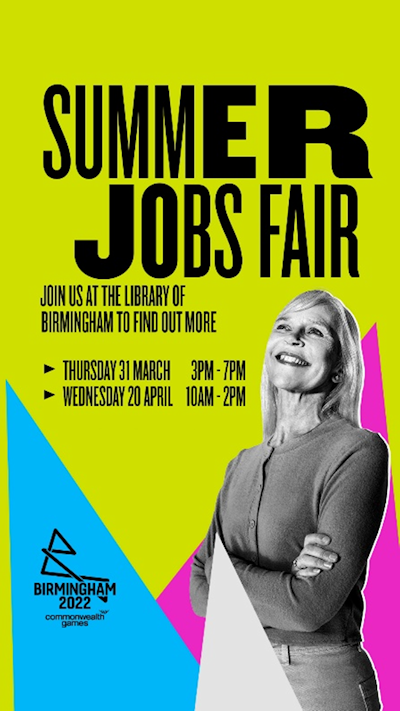 There are 20,000 Games time roles up for grabs at Birmingham 2022 (@birminghamcg22).
The second of their Jobs Fairs takes place on Thursday 31 March at the Library of Birmingham.
Go along and make the Games work for you!
http://birmingham2022.com/jobs #b2022
Facebook: @Birmingham2022
Twitter: @birminghamcg22
Instagram: @birminghamcg22
Neighbourhood Development and Support Unit: I have received the latest update from the NDSU in relation to External Funding as of 8th February.  Please see for any opportunities that may be available to you and your organisation.
https://sway.office.com/5vR8Z2nEMm7iWwO7
TfL News:  Please see the following information as it could affect us all in Sutton Coldfield.
Easter weekend, 15 – 18 April
Our Easter railway upgrades include:
Track and signal upgrades between London Euston and Milton Keynes

Bridge work in the Camden and Regents Park area near Euston station

Railway drainage, track and signal improvements between Crewe and Warrington

Track upgrades between Carlisle and Scotland.
Travel either side of the Easter bank holiday weekend
We're asking passengers to travel either side of the bank holiday weekend to avoid longer, busier journeys and bus replacements and changes on the following routes:
between London Euston and Milton Keynes

on the Coventry corridor from Leamington to Coventry and Rugeley to Birmingham New Street

between Carlisle and Glasgow and Edinburgh

changes to services to and through Crewe station.
Our communications will point passengers to plan their journeys in advance at www.networkrail.co.uk/wcml. Details of services can be found at National Rail Enquiries or by calling 03457 48 49 50. Passengers who require assistance are advised to pre-arrange this with their local train company.
Early May bank holiday weekend, 30 April – 2 May
Over the early May bank holiday weekend, work will take place to:
Upgrade track and railway drainage between London Euston and Watford

Reconstruct a bridge at Euston/Camden 

​

Renew electrical switches and crossings at Watford Junction

Replace a bridge in Saltley

Modernise signals through Macclesfield

Track improvement work between Warrington and Preston (Sunday 1 May).
Travel either side of the early May bank holiday weekend
Again, passengers are asked to plan ahead and travel either side of the bank holiday weekend to avoid longer, busier journeys and bus replacements on some routes including between London Euston and Milton Keynes.
Travel to FA Cup matches may be affected, and we advise passengers to please check with their local train company or the Football Association for more information.
Birmingham 2022 – The Birmingham 2022 Festival
Birmingham 2022 have today formally launched our Birmingham 2022 Festival, a six-month long cultural programme taking place across Birmingham and the West Midlands which will accompany the Games. It will be the biggest celebration of creativity ever seen in our region and one of the largest ever cultural programmes to surround a Commonwealth Games.
There will be over 200 events including a spectacular open-air show, a brand-new Birmingham inspired album, an immersive 3D experience on public transport, photography exhibitions across billboards, a city centre forest of magical proportions, a mass tap-dancing extravaganza and much, much more. With events running from March to September, the festival will put Birmingham and the West Midlands' creativity, ambition, heritage, and diversity on a global stage. Activities will take place in every Birmingham constituency.
To learn more, view the full programme of events or get involved visit: www.birmingham2022.com/festival
As your MP I am here to help. If you feel I can assist with any concerns, please do not hesitate to get in contact by emailing me on andrew.mitchell.mp@parliament.uk
My weekly updates are available via:-
Email: https://lp.constantcontactpages.com/su/bhE9MGy/AndrewMitchellNewsletter Facebook: https://ww.facebook.com/andrewmitchellmp 
Website: https://www.andrew-mitchell-mp.co.uk/news
Please feel free to share with anyone who might like to receive a copy.