5 August 2022
Weekly Message to Constituents - Competitive Spirits
In a few short weeks, the Conservative Party will elect a new leader and the UK will have a new prime minister. Ballot papers are landing on the doormats of Conservative Party members throughout the Royal Town and the decision rests with them. It is an awesome responsibility.
Whoever wins will have to face up to some of our country's toughest challenges since the end of the second world war: cost of living crisis. Energy crisis. Rising inflation. An international order under grave threat.
But first we need to ask: who should win?
Each of us must exercise our judgment and vote for the person we believe has the competence and character to deliver the best outcomes for everyone. We especially need to select the person we believe would have the tightest grip on the economy as we navigate the massive storms ahead.
For me, that person is Rishi Sunak.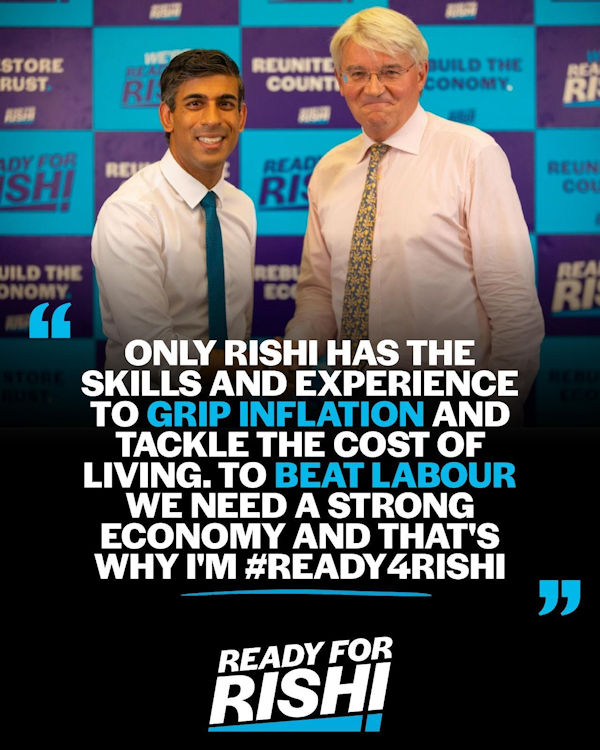 I believe he has proven himself as Chancellor and he offers so much more. His grasp of policy and detail is outstanding. His thoughtful approach and agility – qualities so vital in crisis-decision making – have been tried and tested.  Perhaps most impressive, is his determination always to listen and to learn, to try and get under the skin of the issues that matter to people.
If you have a moment do watch this short video by William Hague, whose seat Rishi succeeded in 2015.
By no means an obvious choice to represent the constituency of Richmond, Yorkshire – Rishi does not have a northern or a farming background – he nevertheless won against the odds, beating every other local candidate up for selection - and beating them hands down. This is why….
Commonwealth Games Legacy
As one competition heats up, another winds down. The Commonwealth Games in Birmingham are drawing to a close on a high with Team England's medal count stacked with gold medals in basketball, swimming, gymnastics, wheelchair racing and wheelchair basketball, to name a few.
We have lots to be proud of, but as I have always said, the Games are as much about the future and the legacy we will carry forward. I have already spoken about the positive community impact of the Games, with inward investment over the coming years forecast to boost the whole region. Sutton Park was at its best throughout the competition.
There is also an opportunity to build on the Games' success and tackle inequalities in sport and physical activity, removing the barriers that affect people's participation and targeting action towards those who need the most help to be active.
Sport England are leading the way and I am so pleased that they are investing £35 million to ensure a grassroots legacy.  I'd like to take this opportunity to thank Sport England for the vital work they are doing at all levels, and of course for the success of the fantastic Games.
Huge congratulations also to all our athletes and to the many volunteers in Sutton Coldfield who helped organise and conduct the various events!
Vote Brum to Bring Great British Railway Home!
And more competition is afoot.
Birmingham has made the government shortlist to become home to Great British Railway's headquarters. I'm sure you will agree that there is no better home than Birmingham.
The city sits at the heart of the national rail network, boasts an unrivalled rail heritage and, perhaps most importantly as we look to the future, is today's premier centre of rail excellence.
The city has kept trains moving across the UK and across the world. In fact, without Birmingham, there would be no railways.
But beyond history, we are also at the forefront of rail innovation and education thanks to our leading role in landmark initiatives such as HS2, Very Light Rail and hydrogen powered trains. The University of Birmingham's Centre for Rail Research and Education leads the UK Rail Research and Innovation Network and is a Centre of Excellence for Digital Rail Systems and Rail Decarbonisation.
The new National College for Advanced Transport & Infrastructure is launching the careers of skilled technicians and apprentices who will deliver the future renewal and enhancement of our national rail infrastructure.
If there is any doubt that Birmingham and the region are the home of the railway, you only have to ask HS2, Avanti West Coast, Cross Country, West Midlands Trains and Genesee & Wyoming (now owner of Freightliner), who all call the region home. In their own search for a home, the Great British Railways Headquarters need not look further than Birmingham.
We need your support to make it happen. For more information on how to #VoteBrum, please visit www.wmca.org.uk/gbr
Covid Vaccinations Milestone
In September I will be visiting Sutton Coldfield's vaccination centre to talk about the latest progress.
But I couldn't wait to share the news that this weekend, they will have vaccinated their 150,000th person. It is a terrific achievement of which the entire NHS team should be proud. Well done to Dr Rahul Daub and all the fantastic nurses and volunteers who have worked together to ensure a seamless and efficient service helping to protect everyone from the worst effects of the pandemic.
Parliament
£20 million Supported Housing Improvement Programme
This week the government has announced that Birmingham City Council will be awarded the sum of £3,190,000 to run a programme of work to the end of March 2025, through the Supported Housing Improvement Programme.
It is unacceptable that some landlords are providing poor quality accommodation and insufficient support for vulnerable supported housing residents, often at high cost to the taxpayer. The initiative builds on an earlier announcement that a package of measures will be brought forward to put an end to unscrupulous landlords exploiting some of the most vulnerable people in our society. This package of measures includes new standards for support, new powers for local authorities in England to better manage their local support housing market, and changes to Housing Benefit regulations. We will introduce any measures requiring legislation when parliamentary time allows.
This funding award to Birmingham City Council reflects the high standard of the council's proposal, which demonstrated a clear consideration of insights from previous work, targeting local issues and concerns. I am very pleased that this funding will allow the council, to drive up quality standards in the sector.