22 July 2022
Weekly Message to Constituents - The Heat is On
Whilst luckily the heatwave appears to be behind us, the leadership contest is only just firing up as the final two candidates prepare to go head-to-head: Rishi Sunak and Liz Truss.  
Following on from last week's email, it has been great to read so many responses on whom you think should be the next Conservative leader. The eight runners and riders certainly made up an excellent spread of options that all Conservatives should be proud of, and that you could not find in any other UK party.
After careful deliberation, I have decided to support Rishi Sunak in this contest. Here I would like to briefly explain my reasons why. 
We are living through very challenging times with rising energy bills and wider cost of living, among other domestic issues, and a precarious international situation. Rishi Sunak has the experience and the decisiveness to tackle these problems head-on. He showed this with his furlough scheme during the pandemic which saved hundreds of jobs and businesses in Sutton Coldfield alone, and in these uncertain times we need a leader who can deliver for us all.
I believe that Rishi Sunak has the competence and character to rebuild our economy and restore our trust and for those reasons I am fully behind him in this leadership bid.
Regardless of the result, I am proud to represent a party so reflective of modern Britain. With four female and four non-white candidates among the initial eight, the Conservatives lead the way in social representation and have demonstrated a diversity you would not find in any other of the major parties.
Constituency
Happy Tennis, Happy Fundraising for Acorns Children's Hospice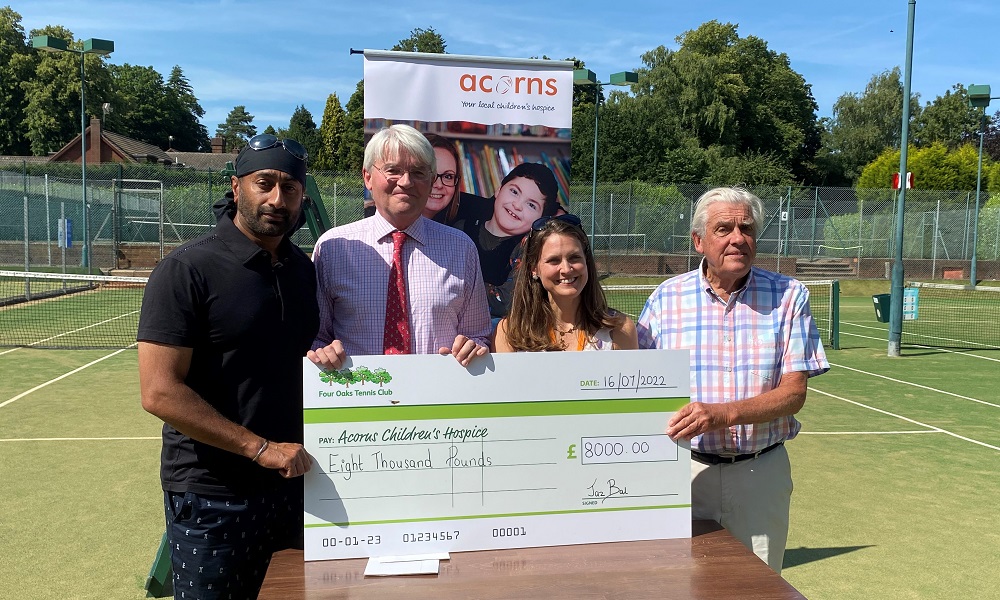 On Saturday the Four Oaks Tennis Club's annual fundraising event was in full summer swing. It was a pleasure to be invited to take part in a presentation ceremony to mark the conclusion of a 24-hour charity marathon to raise funds for the wonderful Acorns Children's Hospice. 
Organised by Club Member Jaz Bal, the fun-packed day was brilliantly attended with participants playing back-to-back tennis as donations poured in, so far raising over £8,000 for a truly great cause. 
Acorns Children's Hospice provides specialist care and support for children with life-limiting or life-threatening conditions and their families, across the Black Country, Birmingham and the wider West Midlands area. Like other charities, Acorns relies on the generous support of local communities to enable them to carry out their incredible work which is often a lifeline for many families facing the unthinkable.
The Club is still accepting donations and is determined to reach if not exceed its £10,000 target.  I encourage those who can, to support a vital cause where even the smallest donation can make a huge difference. 
Please take a moment to a look at their fundraising page:  https://www.justgiving.com/fundraising/balfor-recruitment-group 
Sutton Cottage Hospital 
The leader of the Royal Town Council and I had a meeting this week with Richard Kirby and his team to review progress on the future role of our Cottage Hospital. Our vision is for this hospital to become a centre to provide all sorts of care and support for older folk, most particularly so they are able to stay in their own homes for as long as possible and out of institutional care. 
Of course, all of this planning takes a very long time and needs to take account of other interlocking NHS activities but as far as I can see it is moving in the right direction. Inevitably cost estimates have escalated. I now look forward to further progress and will report back after our next meeting with the health authorities in September. 
Young male suicide: a silent epidemic
During my advice surgery on Thursday I met an extraordinary couple who tragically lost their son to suicide.
They wanted to highlight the rising rates of suicide amongst young men in the UK and discuss the Suicide Prevention Strategy.
Suicides among young males are four times more common than among young females, and they are occurring among ever younger males, some in their early teens. Statistics show that suicide is the biggest killer of young men under 35. 
Little is understood about what motivates boys and young men to take their lives in such numbers, and it is clear that more research is needed into this area, as well as more open discussion and awareness.
The Government's Suicide Prevention Strategy was launched in 2012 and in the last year the strategy set out additional Government support and funding for suicide prevention to address added pressures caused by the pandemic. 
I will now be writing to the Health Secretary to ask what steps are being taken within the Prevention Strategy to understand specifically why young males are emerging as a vulnerable group and to ensure the right support is in place.
Tikka Nation Lands in the Royal Town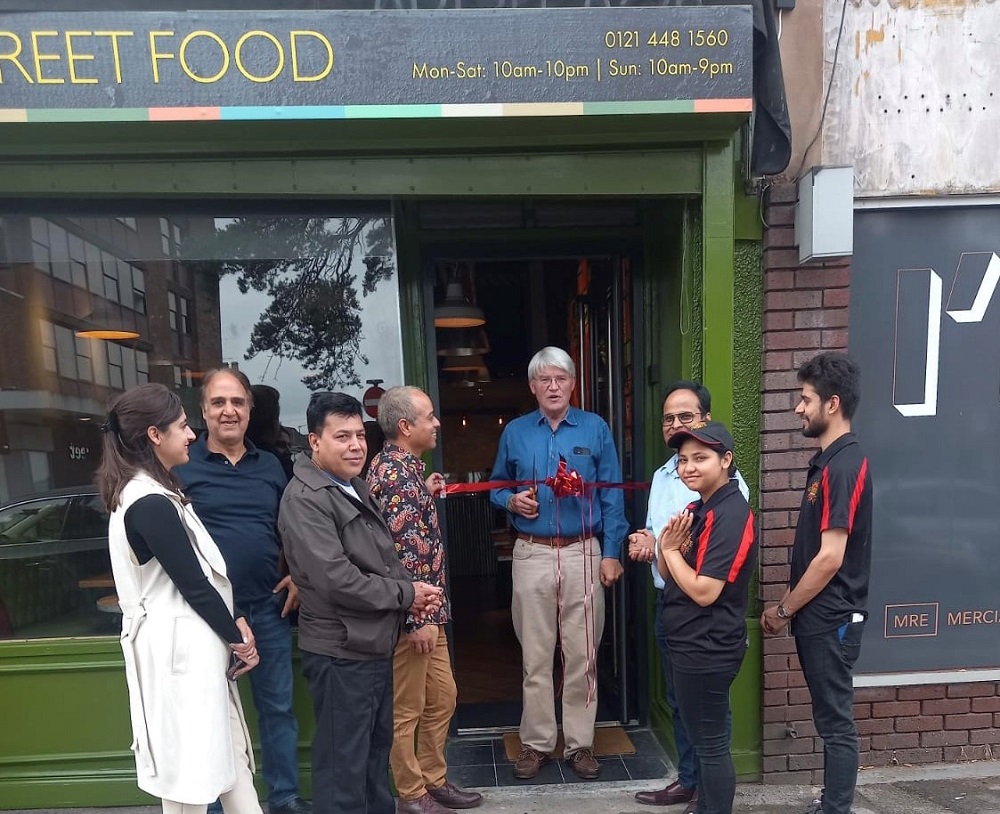 Great news for curry lovers: the Indian street food chain, Tikka Nation, has selected Sutton Coldfield as the location to host its fourth branch.
Bringing authentic Indian food to our Royal Town, the venue is a fast-casual dining place offering a true taste of Indian street food with a modern twist.
I was invited to perform the restaurant's official opening ceremony this week which I did with pleasure. I was delighted to learn that a dish has been named in my honour! The event was also attended by local Town Councillor Nitish Raut.
In these tough economic times, it is encouraging to see local businesses opening or expanding. I wish the owners every success in their latest venture which is sure to be a hit with local curry enthusiasts. 
Location: Tikka Nation, 14 Birmingham Road, B72 1QG.
Parliament 
Meeting with the Secretary of State for Transport, Rt Hon Grant Shapps MP
In spite of the disruption of the Leadership election in parliament this week I was able to hold a brief meeting with the Transport Secretary Grant Shapps to emphasise the importance to the Royal Town of the £20 million investment in transport aspects of our Royal Town Centre which will be transformed over the coming years. 
I am hopeful that this vital investment will be signed off before too much longer. 
Northern Ireland Protocol Bill
Much of the time in the House of Commons this week has been taken up by the Northern Ireland Protocol Bill. Readers of this message will recall the reservations I had about this Bill on the basis that the UK risks breaking an international treaty, thereby damaging our reputation and relations with our most important ally. Standing by my position, I did not support the Bill this week.
Reproductive Health in Africa
With reproductive health and women's rights very much in the news lately, I asked the government for an update on its work to support women in Africa:
Question:
To ask the Secretary of State for Foreign, Commonwealth and Development Affairs, what steps her Department is taking to support reproductive health in Africa. 
Answer:
Vicky Ford: 
As outlined in the recent International Development Strategy, the UK is strongly committed to "empowering women and girls, unlocking the agency and power of all people" by "driving progress on universal, comprehensive sexual and reproductive health and rights". The Foreign, Commonwealth and Development Office (FCDO) supports a broad range of programmes, including on maternal and child health, family planning and HIV and AIDS. Since taking up position of Minister for Africa in September I have visited clinics offering Reproductive Health Services in Senegal, Tanzania, Malawi and Sierra Leone and had the opportunity to hear first hand from women, medical staff and community leaders of the transformational impact these services are having on women and their families.
The UK has supported 9.5 million women and girls to use modern methods of contraception since 2018 through the Women's Integrated Sexual Health (WISH) programme, which now works across 17 African countries. This £260 million programme delivers voluntary family planning services and reproductive health and rights, with a focus on reaching those most in need - young people, women living in extreme poverty and people with disabilities. It has averted 45,080 maternal deaths, 5.9 million unsafe abortions and 16.5 million unintended pregnancies.
The UK also plays a vital role in strengthening countries' own ability to deliver life-saving maternal, reproductive and child health services through the Global Financing and Reproductive Health Supplies programmes, and our support to FP2030 and UNAIDs.
WaterAid Award
I was surprised but pleased to have heard that I've received an award  in recognition of my support for WaterAid's mission to increase people's access to clean water, hygiene and sanitation (WASH). 
Clean water and sanitation are a crucial factor of sustainable development which I have advocated for passionately over many years. I look forward to meeting with the WaterAid team in September to discuss further progress.