15 July 2022
Weekly Message to Constituents - On the Move
Leadership
Westminster is abuzz with the Conservative Party leadership race which is well underway. We are fortunate in the Party to have such an array of talent with first-class contenders, each of whom would doubtless bring unique and important qualities to the role.
However, I have said from the outset that our next prime minister should usefully be judged against three key criteria. First, candidates must be unsullied by their association with the previous leadership. Second, he or she must be able to demonstrate top-flight government experience both in the domestic and international spheres. Finally, they must be moral, if we are to win back the trust of our party and the country.
Jeremy Hunt was in my opinion the only candidate who best met all 3 requirements, which is why I supported him to be our next Prime Minister.
But with Jeremy out of the running, I am considering the choices before me. And here I would like to call upon the help of my constituents – most especially the Conservative ones! I know my Labour friends in the Royal Town were hoping we would hang on to Boris!  This is a critical moment in our party and country's future.
Please do get in touch with your thoughts on who the next leader of the Conservative Party should be on Andrew.mitchell.mp@parliament.uk. 
Of course, every member will have a vote so once we know the names of the last two, we Conservative members will all be in the same place each with one vote.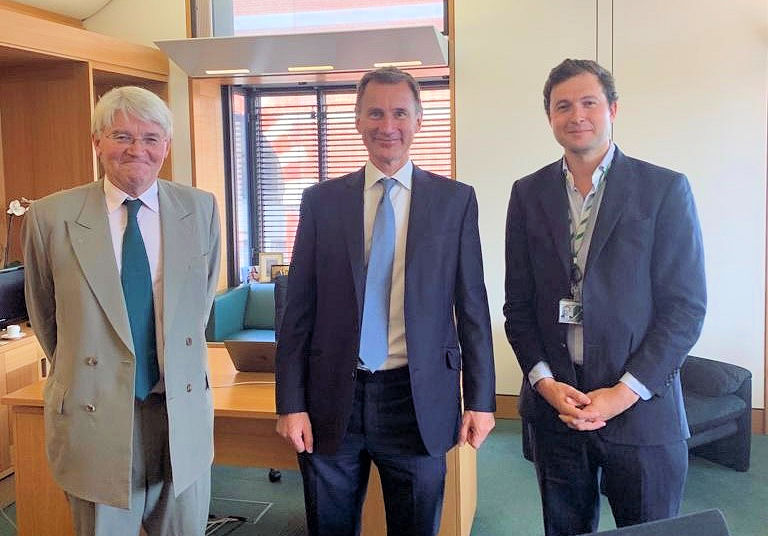 Constituency
Civic Service at Holy Trinity 
The annual civic service took place last Sunday, in the presence of our Royal Town Mayor, Janet Cairns and the Deputy Lord Lieutenant, John Craggs.
The Mayor and I read the two Lessons and we sang some well-known hymns merrily and asked God's blessing on our Town. The Rector of Holy Trinity, John Routh, preached a thought-provoking and interesting sermon.
The Civic Service celebrates the close-knit community that exists in our Royal Town and prays for the whole community and the issues that are widely cared about.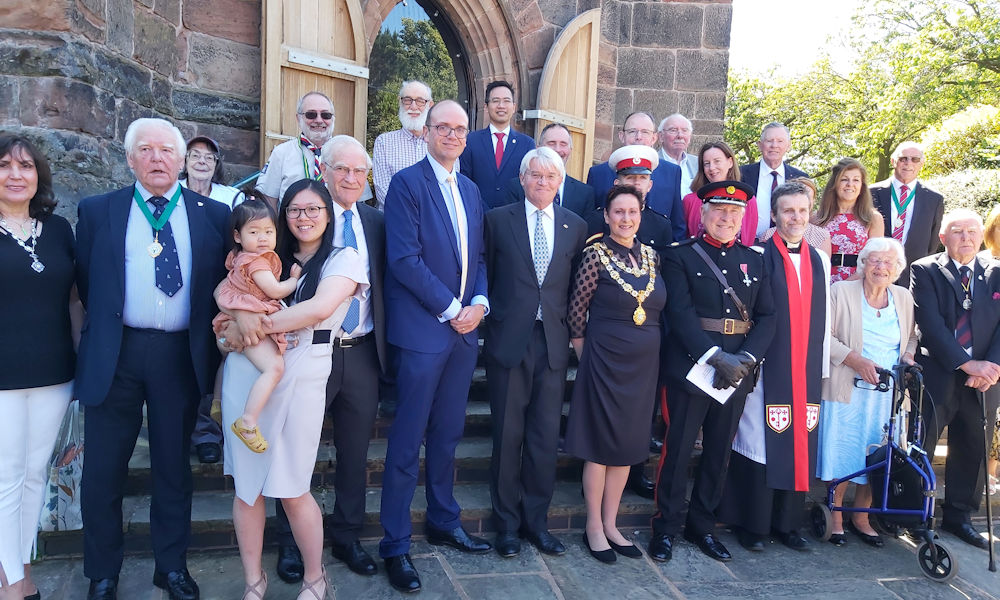 APPG Levelling Up Birmingham
On Thursday I took to the floor of Birmingham Central Library to speak at the official launch of the APPG Levelling Up Birmingham – a cross-party initiative set up to push for the best levelling up outcomes in our area. The event was well-attended and I was joined on the platform by Mayor Andy Street, Birmingham City Council Leader Ian Ward, the Bishop of Birmingham and Labour MPs Preet Gill and Liam Byrne MP – the former who is my co-Chair on the APPG, and latter who acted as compere for the evening.
At the event I spoke about the amazing transformations I've seen in and around Birmingham since I first became the Royal Town's MP back in 2001. But there is a lot more we need to do.
Levelling Up is important because it addresses the problem of regional neglect. Across the West Midlands Conservative and Labour MPs alike would testify to the difficulties we have encountered over many years as elected representatives fighting for our fair share of funding and investment.
Levelling Up changes the game. It recognises the extent to which longstanding geographic inequalities have fuelled social and economic inequalities and that this must change. Just as talent and ability are spread across our country, so opportunity needs to be redistributed across our different regions. Birmingham has over the years gone from a city of potential to a city on the move. Now it is a city on the cusp of greatness - the government's agenda is the leg up it needs.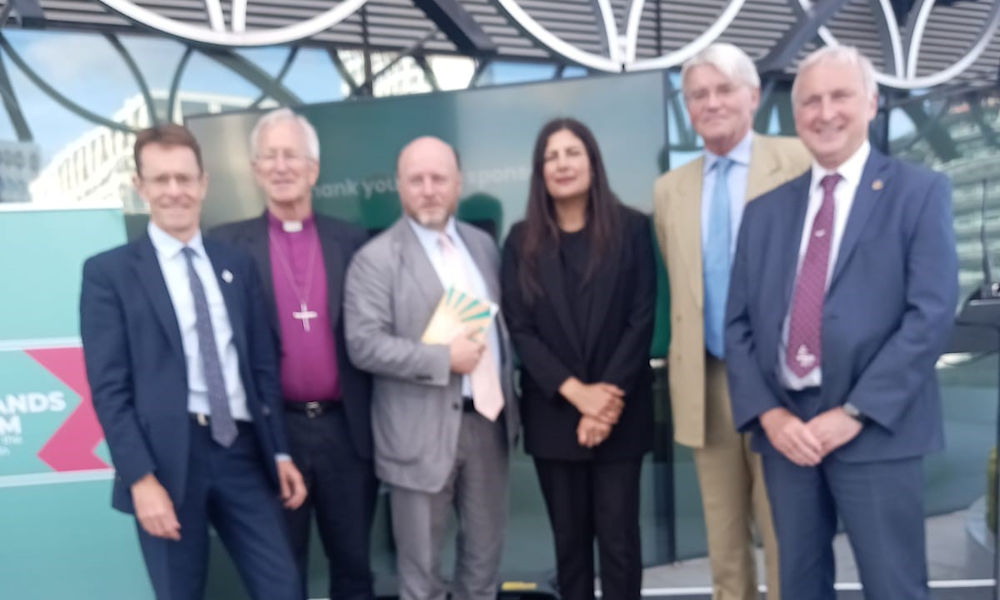 Sutton Baptist Church Annual Lecture 2022: Ukraine
I rounded off my constituency week by delivering my annual lecture on one of the greatest security challenges of our time: the war in Ukraine.
It is almost four months since Putin launched this brutal war, bringing untold suffering to the innocent people of Ukraine. The UK has rightly stood by Ukraine throughout.
Russian aggression cannot be appeased. Evidence grows of heinous war crimes: the butchery of innocent Ukrainian civilians. We must ensure that these crimes are fully investigated and justice is done. Allowing aggression to succeed would only bring further conflict and misery, and the war would not stop in Ukraine, so we must at every turn step up our commitment, maintaining the pressure on Russia's economy and entrenching our policy of containment and isolation of Russia.
The whole international community needs to work together, steadfast in its determination and solidarity. Putin overestimated his military capabilities and underestimated the strength of western unity and resolve.  I strongly support NATO's unwavering stance defending our principles which I believe will wear down the determination of aggressors.
We need to continue the twin track of providing military support while backing Ukraine in negotiations.  We must also find a solution to global food insecurity resulting from Russia's blockade of Ukrainian ports, which prevents Ukraine from exporting its produce. By driving up food prices and creating shortages, the poorest and most vulnerable people in the world suffering, including in the UK, with the cost of living at least in part a consequence of the Kremlin's actions.
For would-be aggressors everywhere, Putin must lose. Ukraine must prevail, for the good of its people and the principles we hold dear.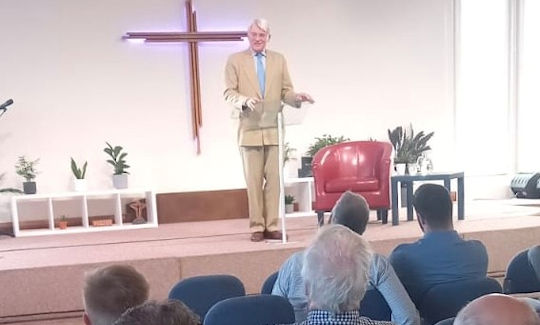 Sutton Schools all set for the School Rebuilding Programme
Having given very strong support to Sutton's schools, I was delighted by the news that Four Oaks and New Oscott Primary schools are amongst 500 schools across England to have been selected for the Government's School Rebuilding Programme.
Under the scheme, buildings at both schools will be replaced or refurbished, helping transform the educational environment and benefitting pupils at the schools for decades to come.
Investing in our school buildings is vital to support schools and teachers in delivering a high-quality education, so that pupils gain the knowledge, skills and qualifications they need to succeed.
It's a real shot in the arm that both these schools, that have waited a long time for this news, are heading off for the summer holidays with this brilliant promise of progress safely under their belt.
Foodbanks
Two of our Town centre Churches work together in providing food banks for the local community.  They saw a doubling of need through the pandemic, and a quadrupling of need already this year.  
Food4U operates in Sutton Coldfield United Reformed Church and is open every Tuesday providing not only a bag of food but a simple hot meal and drink as well. For more details on Food4U and how to support them follow this linkhttps://scurc.org.uk/food4u/
Sutton Coldfield Baptist Church is open every weekday and is able to give a bag of dried and tinned food worth about £11.50 which has to last for a week.   The majority of people who come, need only come once or twice at a particular point of crisis.  Recent weeks, with the cost of living rising, there has been a bigger take-up and being open each day their weekly distribution is now around £2000 worth of food.  This is either donated physically or bought from wholesalers with the public's financial donations.  Follow this link to find out more about helping their food bank. https://www.scbc.org.uk/community/food-bank/
Both food banks offer a listening and friendly ear as well as help in signposting to other agencies and charities, often this friendship is as important as the food.  The Sutton Coldfield community including schools, local business and neighbourhood street collections have been remarkable in stepping up to help both these Churches who are very grateful for the support they have received, but they are concerned about the Autumn.  If you haven't yet thought of helping why not give their websites a look
Parliament
APPG Financial Crime
On Monday I attended a session of the APPG on Financial Crime which looked at the challenges around tackling individuals engaged in dubious financial activity, particularly where there is foreign state involvement. The meeting drew upon the opinions of experts in the fields of criminal justice and international law – two separate but interlinking areas which together hold the key to possible solutions.
The APPG, which I Co-Chair with Rt Hon Margaret Hodge, is currently considering ways in which we could amend the forthcoming Economic Crimes Bill to give more the UK more powers to clamp down on illicit crimes which around the world are robbing people of billions of pounds.
Remembering Srebrenica
Fifty years after the world said 'Never Again' to the horrors of the Holocaust, genocide took place on European soil.
In July 1995, at the height of the Bosnian war, thousands of men, women and boys were systematically murdered and buried in mass graves.  The victims, who were Muslim, were singled out for death on the basis of their identity.
Every year we remember the atrocity in Parliament. On Wednesday I signed the remembrance book alongside the following message:
"The profoundly shocking experience of visiting and seeing on the ground what happened and speaking to those – some of them – who suffered so much, reminds us all how far there is to go to create a fairer and more just world with international institutions that work effectively and are respected.
Andrew Mitchell, MP for the Royal Town of Sutton Coldfield"
Twenty-seven years on from Srebrenica Europe is once again a witness to darkness. Russia's war in Ukraine resulting in the brutal deaths of countless innocent men, women and children reminds us that words too often are hollow.
Platitudes are not enough. It is only worth reflecting on the past if we are proactive in changing the future. Humanity has a lot more work to do.